Piano Tuning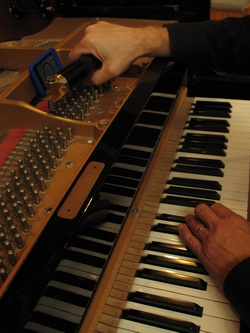 A typical tuning takes an hour and costs $150. Cash, check, or charge via square are all accepted.
I adjust the pitch to the recognized standard of A=440 Hz, or allow the overall pitch to float depending on indoor humidity. (We can discuss options for your specific situation.)
Some pianos that have not been serviced in a great while may need some extra tuning time to get them to stabilize at pitch. If it has been many years since your piano was tuned, an extra 30 minutes is often required to go through all the strings an additional time to attain a fine tuning.

The cost for additional services is $90/hr.
For service calls without tuning, the first hour is $150, and then $90/hr for longer times. For example, to add vacuuming and cleaning of the soundboard and around the tuning pins usually adds 30 minutes and costs $45.

It helps to have the top of the piano cleared off before I arrive.
Thanks!
---
Voicing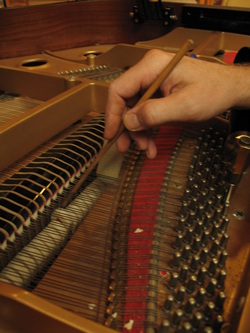 Voicing is the term used to describe changing the tone of the piano. Most often the work is requested to even out the tone to make all the notes similar in sound. Often this service is accomplished during a normal tuning without any additional cost. Sometimes a request is made to brighten up the whole piano or darken down the whole piano. I have years of experience working with clients to achieve the appropriate tone for the room acoustics.

A full voicing may require regulation work as well as hammer shaping/sanding to achieve the desired result.
---
Regulating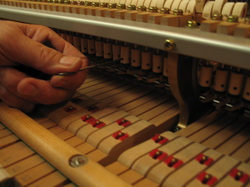 Regulating is the term used to describe the process of adjust the action, that link that translates the motion of the finger into the motion of the hammer that hits the string and makes the music. The goal is to make the action an efficient, predictable machine to enhance the connection between the performer and the sound.

---